Need a shoulder MRI in Tampa? Be prepared to pay anywhere from $285 to $6,228.
Price variance for common procedures isn't necessarily common knowledge, but can result in significant levels of overspending for both employees and your health plan.
That's the predicament Healthgram's executive director Keri Downer found herself in after a recent knee injury. After an appointment at a nearby orthopedic office, she learned she would need an MRI to determine next steps. The provider gave her a list of facilities where she could get the procedure done, but the listings included no cost information.
Using Healthgram tools and guidance, Keri discovered that the MRI costs at the facilities her provider recommended ranged from $650 to over $4,000. Without that information, Keri would be in the position many employees find themselves in when they need care: sick or injured, attempting to navigate an obscure system with limited support.
"At that point, I feel like it's just a free fall. You have no idea where they're going to send you," she says.
When her MRI results revealed she would need surgery, she asked about costs. Facility prices alone ranged from $2,400 to more than $12,000.
It's a question many employees don't know to ask: patients frequently schedule their surgery before leaving the doctor's office, giving them little or no time to consider their options. Another choice with significant cost implications. "If I hadn't asked [about cost], it would have been completely up to the scheduler," Keri recalls.
Ultimately, Keri had surgery at a fair-price facility, avoided an unnecessary hospital stay and was even able to recover at home the same day. Savings totaled over $20,000.
What we know about price variance
Keri's story isn't unique. And price variance exists for services beyond surgeries, even for common imaging procedures like x-rays and CT scans. A look at costs for common procedures in Charlotte: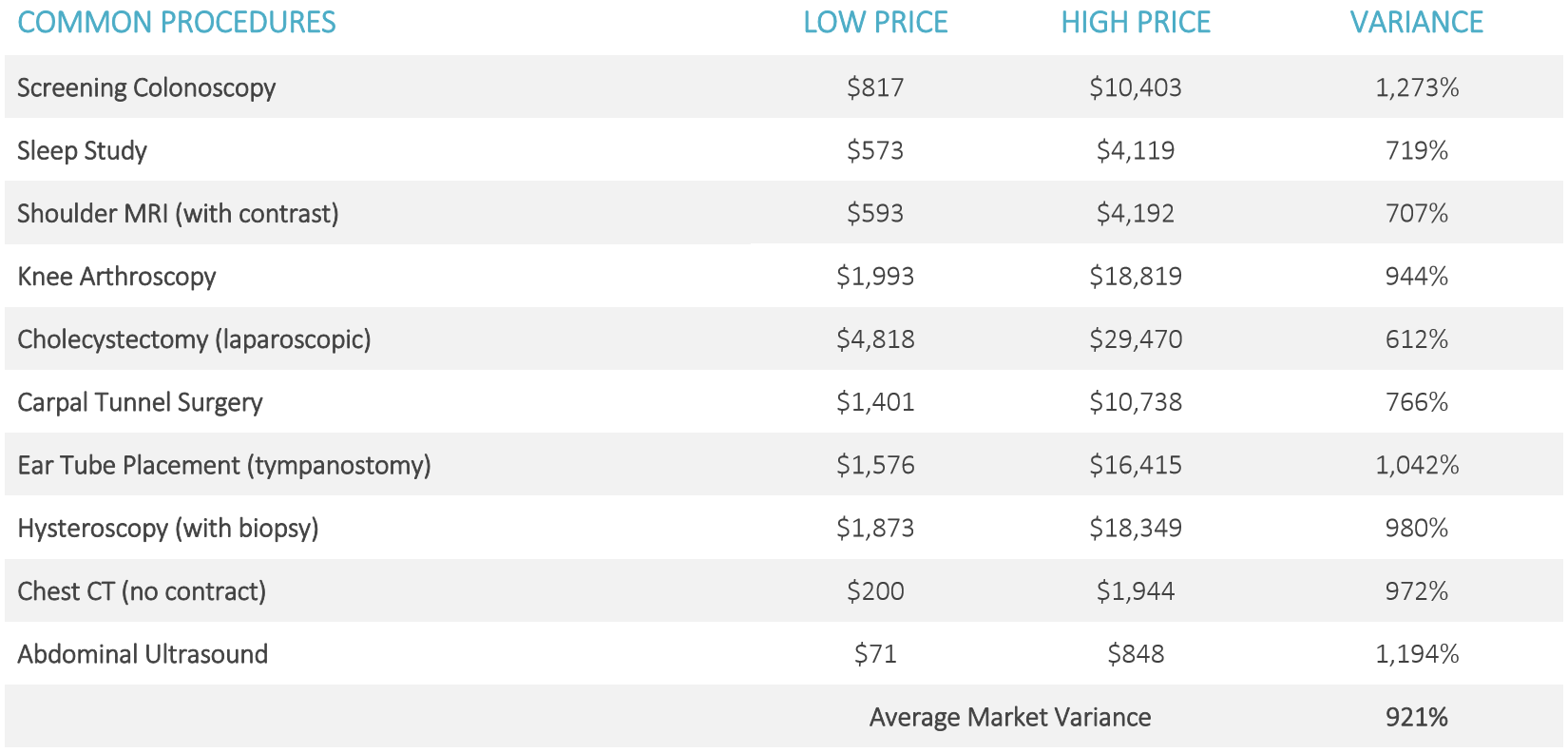 High price variance isn't isolated to one market, either. In Tampa, costs for these procedures vary 1,259%, in Houston, 764%, and in Omaha, 651%.
As for why prices vary so drastically, many hospitals and facilities aren't upfront with their answers. One thing we know for sure: higher costs of care don't correlate with higher quality. In fact,  higher costs are often associated with lower quality ratings.
The source of variance commonly stems from the facility, not the physicians, meaning the price depends on where the procedure is performed. It's common for employees to find that their physician can perform a procedure at a different facility for a significantly lower cost. Hospitals tend to charge more for these procedures, while outpatient and independent surgery centers charge less.
The impact on employers
When costs for individual procedures vary, so do employers' risk for covering these high-dollar claims. Plan responsibility for a screening colonoscopy in Charlotte can vary by 1,273%, depending on where employees seek care. Network discounts don't protect against this type of overspending (apply a 50% discount to the high cost of the screening, and you'll still overpay by more than $4,300).
Employees can also be victims of obscure pricing practices. If you have a high-deductible health plan or require employees pay a portion of claims incurred through coinsurance, their level of financial responsibility varies along with procedure pricing.
In response, employers are turning to resources that help employees make sense of healthcare pricing, and make the best decisions for themselves and their families. The best solutions are there for employees the moment they need care (and in many cases, before then) with pricing options customized for their health plan network.
The facts support this trend: a JAMA study showed that patients with access to pricing information opted for the lower cost services, resulting in a 14 percent reduction in lab test costs and 13 percent reduction in imaging costs. Our book of business shows similar results: 89% of surveyed Healthgram members said they would consider calling or answering a call with pricing options before their next scheduled procedure.