For most companies, healthcare is both a top expense and an important investment in employees. To better control healthcare investment, companies of all sizes are choosing to self-fund their health plans.
Making benefits changes requires careful consideration. To help, we've answered the top questions employers have about self-funding, from financial risk to employee impact:
Q: What is self-funded insurance?
A: Instead of paying premiums to traditional health insurance companies, many employers opt to accept responsibility for payment of healthcare expenses incurred by enrollees. Employers usually work with third-party administrators (TPAs) or health plan administrators for assistance in designing plans that meet the needs of their employee populations.
Q: What are the differences between fully-insured and self-funded health plans?
A: The key difference between the two approaches is how companies fund healthcare claims incurred by employees. A fully-insured health plan requires employers to pay a pre-determined premium to an insurance carrier to cover these claims, even if the claims amount is less than the premium. In contrast, self-funded employers pay for healthcare claims as enrollees incur them with no set premium. Because claims spend is variable in self-funded plans, employers have more incentive and opportunity to control this cost.
Q: Who chooses to self-fund?
A: Self-funding is an option for mid-size and large companies across industries. The number of self-funded companies is steadily rising: 61% of covered employees in the US are covered by a self-funded plan, while 81% of all firms with more than 200 employees are self-funded. Healthgram companies range from workforces of 150 to over 10,000 employees.
Q: How could my company benefit from self-funding?
A: Self-funding gives employers more control over healthcare costs. Instead of overpaying on a fixed premium, employers can proactively manage claims cost with tailored clinical or wellness programs and guiding employees towards fair-price providers. Employers can choose providers, become part of a proprietary network and generally put their employees in a position to make smarter consumer choices. Employers also gain more visibility into plan performance, more flexibility in plan design and are subject to fewer regulations and administrative costs.
Fixed and Variable Costs in Fully Insured and Self-Funded Plans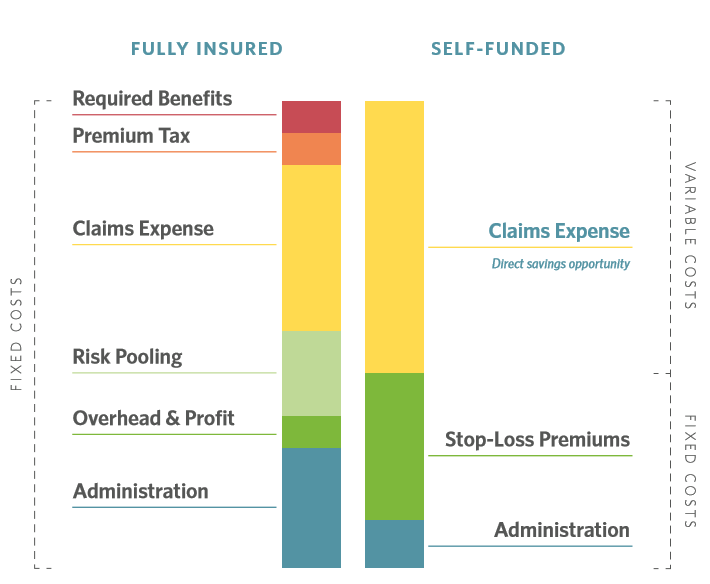 Self-funding also has direct cost benefits. Health plan administration costs are significantly lower—typically between 3 to 5 percent—than those associated with a fully insured plan, which the International Foundation of Employee Benefit Plans (IFEBP) reports can range from 15 to 20 percent. Self-funded companies also can avoid state premium taxes—typically 1.5 to 3.5 percent, depending on the state—and costly mandates on insurers' plans, which can add between 5 to 7 percent to plan costs.
---
Related resource: Self-Funded Health Plans: 5 Advantages for Employers
---
Which vendors will I need?
Self-funded employers partner with a third party administrator (TPA) or benefits administrator to pay claims, coordinate stop-loss coverage, create customized plan designs, help employees find the right care, maintain enrollment records, negotiate discounts and find savings opportunities. When evaluating TPA partners, look for complete transparency, one integrated delivery system, the ability to adapt to your businesses' evolving needs and alignment with your goals.
An increasing cost for employers is pharmacy spend. Self-funded employers work with pharmacy benefit managers to negotiate discounts and maximize treatment outcomes. They may integrate with your health plan administrator.
To keep employees well and ensure they are getting the right care, additional vendors may be required. Consider case management, which supports employees facing long-term health issues, disease management for those with chronic conditions and wellness programs to keep everyone healthy.
Healthgram's approach offers employers an integrated solution. Instead of coordinating with multiple vendors, Healthgram companies streamline all of these programs on one platform.
Without a fixed premium, how will we protect against large claims?
In a self-funded model, employers purchase stop-loss insurance to protect against the financial risk of catastrophic claims. This coverage reimburses or even pre-funds the employer when claims exceed pre-determined individual or group-level thresholds. Specific coverage insures individual claims, while aggregate coverage insures group claims.
What does a successful self-funded plan look like?
While strategies should be customized for each workforce, successful self-funded plans generally achieve lower costs and have higher and more meaningful employee engagement.
In one example, a community services organization new to the self-insured model experienced poor communication with their previous carrier, a lack of clarity regarding claims status and low employee satisfaction. Confusion ran rampant among employees with carriers changing frequently as executives attempted to regain control over costs.
Healthgram's employee-centric approach to customer service quickly quelled any confusion during their transition. In addition to improving employee experience and communication internally, the company reduced medical spend by 35% in year one.
"It's been a wonderful transition to Healthgram. We've developed great relationships with account and claims managers and communication is clear," the company's HR director says.
How will a transition impact my employees?
Employee impact can vary based on plan and network changes. As with any benefits changes, strong communication is key. A successful TPA partner will be able to gain employee trust and quickly resolve any employee issues during the transition and throughout the duration of your partnership.