2018 brought a wave of change to the healthcare industry, and there's reason to believe that disruption will continue. Many companies identified ineffective or inefficient processes within their benefits plan, a tipping point that's allowing employers to seek out better solutions to decades-old problems. What can we expect from 2019? We break down five trends that will impact self-funded healthcare in the year ahead:
Employers will lead the charge for change
Despite the fact that more than 156 million Americans receive coverage through an employer, companies aren't typically considered disruptors of the inner-workings of the healthcare system. 2018 was the year that changed.
In January we saw the creation of a new healthcare company from Amazon, JP Morgan and Berkshire Hathaway, specifically created to "check the rise in health costs while concurrently enhancing patient satisfaction and outcomes". Other headline-making moves included Apple's employee health clinics and Walmart's direct contracts with providers.
An underlying theme across the 2018 disruption is a desire for more control. Adoption of data technologies and a rise in self-funding mean more employers can identify waste and areas for improvement in their plans. Facility misuse or unmanaged high-dollar claims, for example, may prompt further investigations from employers or consultant partners. When identified, employers won't be willing to accept these inefficiencies.
In 2019 we're likely to see more companies following the leads of enterprise employers in demanding transparency into a notoriously opaque system and leveraging what they find to demand better solutions to healthcare headaches.
A return to patient-first care
The healthcare system isn't known for its patient experience. Even in 2019 patients face long wait times, dated communication processes and overall confusion.
These findings have implications for employers. When employees are dissatisfied with wait times, costs or administrative hassles, they're more likely to avoid care. Nearly one-third of respondents in a recent national survey reported avoiding going to the doctor, even those diagnosed with major health problems or were experiencing worrisome symptoms.
Another study sheds light on what today's consumers are looking for when they seek care. While many patients were satisfied with their doctor, most were less enthusiastic about the overall experience.

Select care providers have answered the call: 24/7 access and telehealth visits are the norm for some patients. Many employers have gone a step further by implementing health centers. (Adoption of both onsite and near-site employee clinics reached 54 percent  among large employers this year.)
We expect this trend to continue as direct primary care gains popularity in the employer market.
More focus on healthcare user experience
The push towards better consumer experience will continue outside of the doctor's office. Today's healthcare consumers have already seen improvements in user experience in every other aspect of their lives from more convenient banking to on-demand ride-sharing apps. Healthcare simply hasn't kept up.
For many employees facing an illness, navigating a fragmented system is another source of stress: just one-quarter of health plan members report receiving guidance.
We predict 2019 will bring significant improvements in this space as a younger workforce demands convenience and quick issue resolution.
These solutions should consolidate into one resource where employees can get answers quickly and make better healthcare decisions for themselves. Employers should expect reduced HR burden and higher satisfaction after giving employees an advocate to help navigate a system that's traditionally been a burden.
In this new consumer-first world, payers and providers will find they must prioritize member experience or risk getting left behind. Employers can take charge by evaluating vendors and partnerships by their ability to deliver.
A push for more meaningful price transparency
2019 kicked off with a promising development: a CMS requirement that hospitals publish procedure pricing. Historically this information has been kept under wraps, making it difficult for payers and patients to estimate upcoming procedure costs and increasing the frequency of "surprise" bills that can leave employees saddled with medical debt.
While we hope this is the catalyst to something more, this particular mandate does little. Most hospitals fulfill the requirement by publishing "estimates" of their chargemaster "rack rate". The vast majority of patients and health plans pay nowhere near these prices after network discounts, Medicare reimbursements or negotiation, which can reduce these newly listed prices by 30-75 percent.
Even if the pricing information was closer to what patients and health plans actually pay, it's difficult for the average consumer (and even trained medical billers) to wade through the medical jargon and data fields to make it usable.
Beyond simply having data access, employers and employees would ideally benefit further by using it to reduce unnecessary spend (for example, if one hospital charges significantly more for the same service than another). Insurers and care partners could also use pricing information to appropriately direct care, and reduce costs. Over time, transparent pricing data would create a sense of accountability across the care system that doesn't exist currently.
Examples of price variance in Charlotte, NC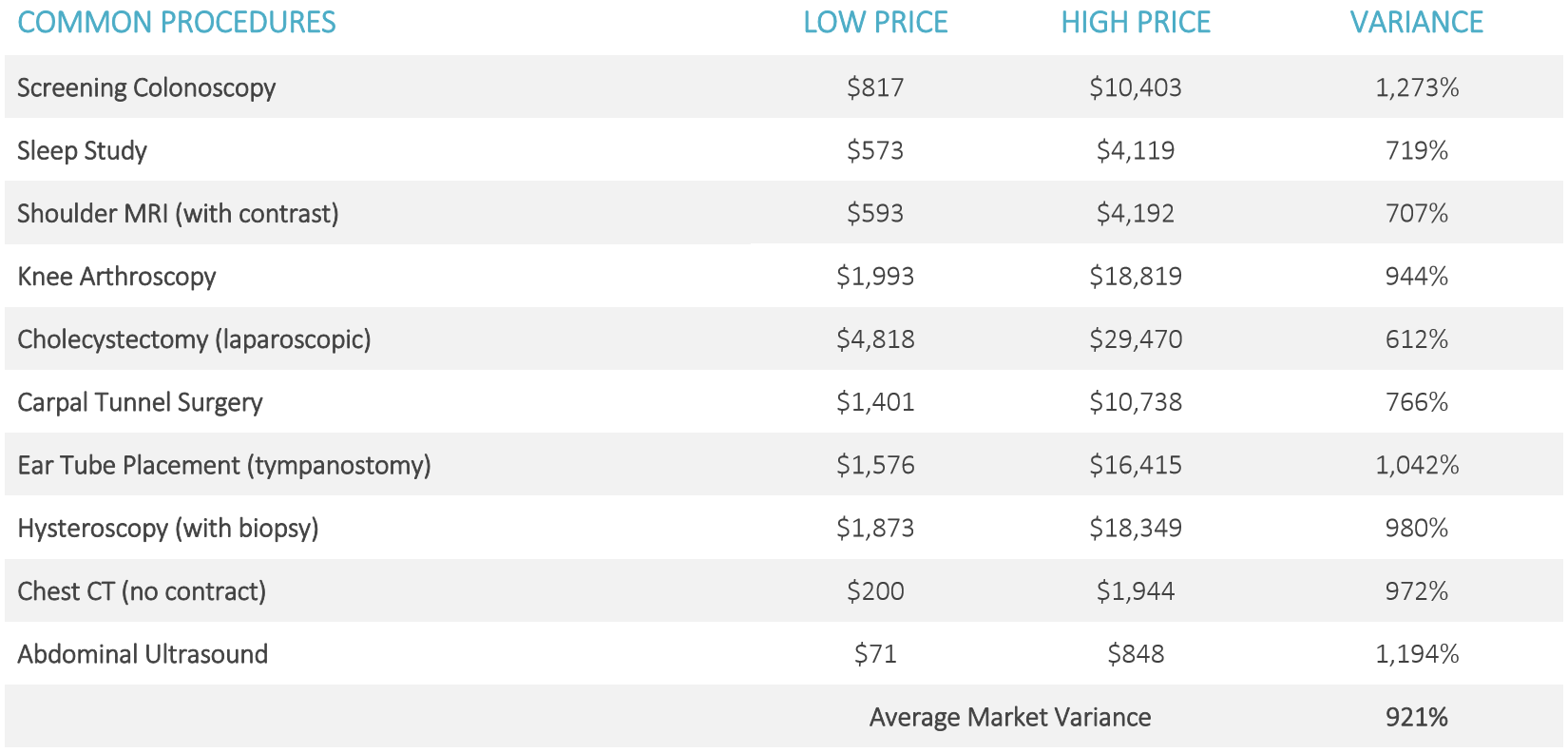 It's likely that 2019 will see an expansion of this pricing information into more usable and meaningful formats. The most recent mandate demonstrates the kinds of inflated pricing that exists, but continued pressure on providers, insurers, and lawmakers is needed to improve transparency into hospital billing and pricing and ensure data is usable. Companies can start by working with the right plan partners who will advocate for transparency that will benefit your workforce.
Curious how price variance affects your workforce? Request a custom report for your ZIP code.
Better optimization of high-cost claims and specialty Rx
High-cost claims and specialty Rx pose a growing threat to employers in the coming years, mostly due to a lack of strategies to identify and engage members effectively.
Typically, hospital claims account for the largest share of overall healthcare costs, usually between 50-60 percent. Rx makes up 20-30 percent of total healthcare spend. In addition, Sun Life Financial's 2018 High-Cost Claims Report reported the number of patients with million-dollar claims rose 87 percent from 2014 to 2017.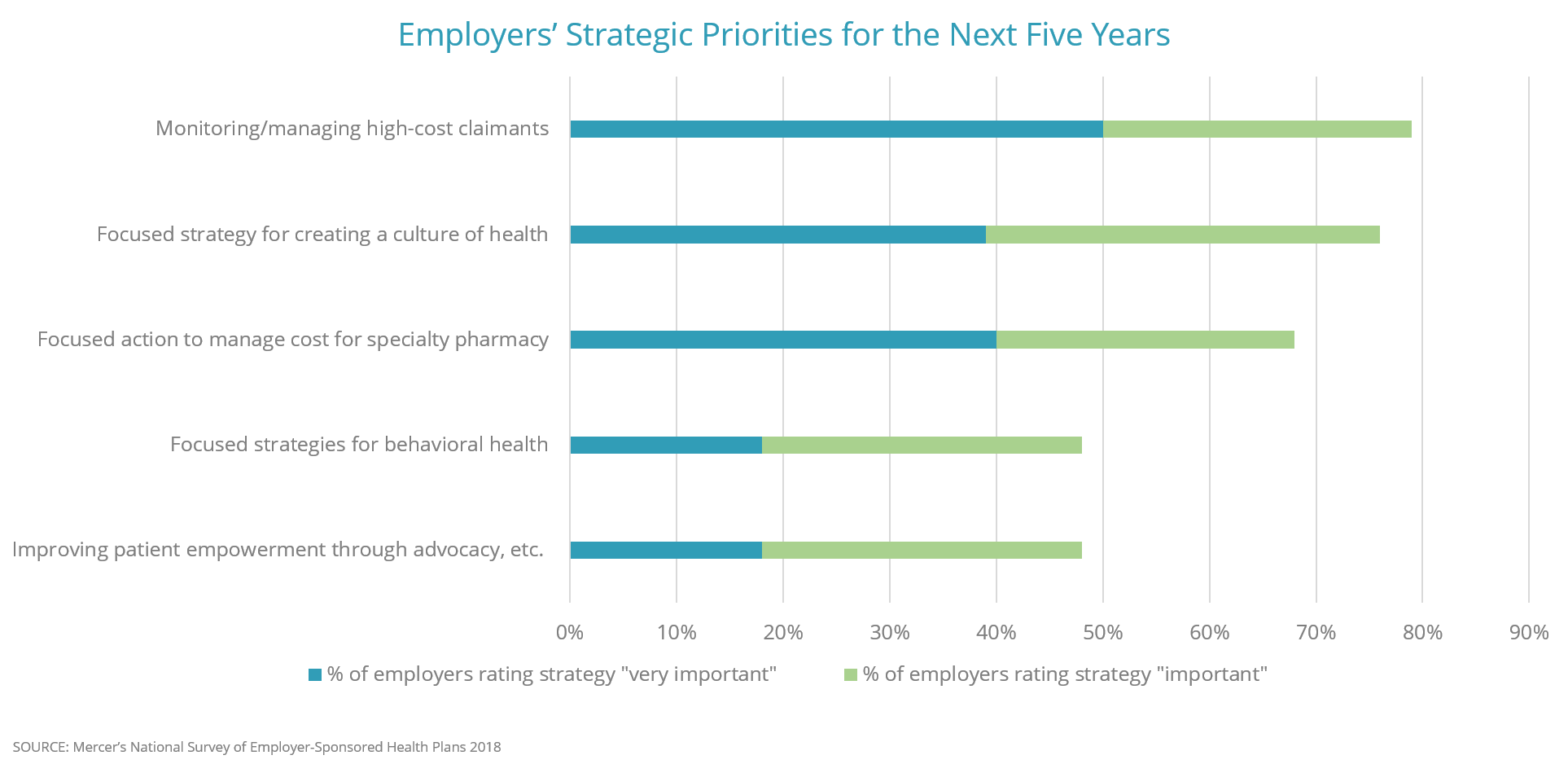 Employers are taking note: In survey of companies with more than 5000 employees, 79 percent reported that managing high-cost claimants will be "important" or "very important" to them over the next five years. 68 percent said that managing specialty pharmacy costs would be a focus over the same period.
These are the strongest opportunity areas for case management and detailed claims oversight to improve health and financial outcomes. We predict that in 2019 employers will demand more accountability from the entities managing these functions.
Companies can start by asking the right questions of their carrier or administrator. Look for case management engagement with patients and providers, inquire about medical review processes and understand what's being done to manage these claims within your plan.
Employer takeaways
In the past, it's been up to big insurance companies to keep employers ahead of these developments. 2019 will likely see an influx of employers and consultants searching for more innovative and customized ways to manage increasing costs and provide a positive member experience while vying for talent in a competitive labor market.
Companies can take advantage of this opportunity by evaluating current plan performance with their consultants and identifying areas for optimization in the coming year.